Big Mamas Legacy
Stitched with Love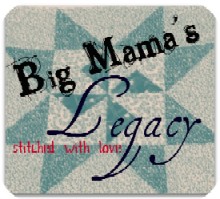 Big Mamas Legacy, a 501(c)(3) charitable organization devoted to providing hand-made "hugs" in the form of quilts to children and adults in need, honors the memory and generous spirit of Big Mama, my Great-Grandmother Emily Colleen (Davis) Shanks. Big Mamas Legacy carries on the tradition of giving hand-made stitched items to children in need as well as providing opportunities for others, even non-quilters, to contribute their talents, time, and skills to the cause.
Learn more about the mission of Big Mamas Legacy and the organizations it supports at www.big-mamas-legacy.org.


---
Documentation
As a 501(c)(3) tax-exempt public charity, Big Mamas Legacy is required to make available to the public certain documentation.
The following documents are available in PDF format:

Texas Sales and Use Tax Permit

IRS Ruling Letter -- Ruling letter issued by the IRS describing 501(c)(3) exemption decision
Form 1023 -- Application for Recognition of Exemption under Section 501(c)(3) of the Internal Revenue Code
Articles of Incorporation

By-Laws

Texas Form 202 -- Certificate of Formation : Nonprofit Corporation
Texas Form 403 -- Certificate of Correction
Part IV: Narrative of Activities

Part V, 2a: Family Relationships of Directors

Part V, 4: Conflict of Interest Policy

2008 Budget -- no actual operations during start-up
2009 Proposed Budget -- limited operations during early operation
Federal Form 990 -- 2009 -- filed with IRS March, 2010
Federal Form 990 -- 2010 -- filed with IRS April, 2011

2010 Budget

Federal Form 990 Schedule A -- 2010 -- filed with IRS April, 2011
---
Return to Big Mama's Legacy Home Page

Return to Quilting-in-America's Home Page

Return to Charity Quilting