Hand-Stitched Flower Basket quilt
by Wayne Sladen
(Gorham, ME, USA)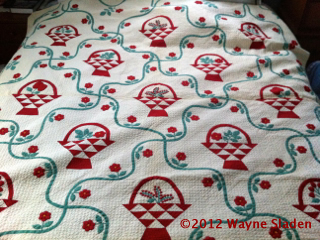 Absolutely stunning quilt
I do not know much about this quilt yet. What I have been told is that this quilt was made by my Grandmothers great-aunt on her mother's side. That would place it somewhere in the late 1800's to early 1900's. Everything is hand-sewn except for the edging. This quilt appears to be a summertime quilt as there is no batting in between the front and back. It is a flower pattern. I would like to know more about it from a historical perspective.
There are many online sites with information about the heritage of quilting in America. Some are excellent, containing well-researched scholarly information, such as The International Quilt Study and Museum at the University of Nebraska - Lincoln.
Others, such as Block Central's Quilt Directory contain links to many fine sites that pertain not only to the history of quilts, but to other elements of quilting as well.