Light-and-Dark
Visually Dramatic
There are several different ways to piece basic Log Cabin blocks. By far the most common and versatile version of the block is the Light-and-Dark, or spiral, construction.
Starting with a small center square, the block is constructed by adding a strip, then piecing each succeeding strip so it is perpendicular to the preceding strip, working around the center square in a circular fashion until the square reaches the desired size.
Typically, Light-and-Dark designs are divided into 2 triangular sections; one half in dark fabrics and the half in light fabrics. Dramatic and startlingly different visual effects can be achieved by manipulating the final placement of the individual blocks.
-->

©Courtesy of dutch blue

In the Barn Raising pattern, diamonds of dark and light fabric seem to radiate from a central diamond shape. Amish and Mennonite Barn Raising quilts from the the late 1800s and early 1900s exhibit a sophisticated, though subtle, color progression in their designs.
Sunshine and Shadow is an Amish variation that produces an interplay of light and dark.
-->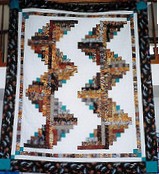 ©Courtesy of dianezirin

Other variations are Windmills and Streak of Lightning.
---
Return to Home Page

Return to Quilt Blocks

Return to Log Cabin