Ohio Star
A Star by Many Names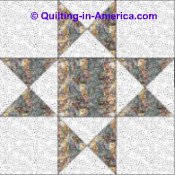 A 9-patch block made of quarter-square triangles around a central square, the Ohio Star block is a lovely quilt block that was known by many names, depending on geographic location or time period.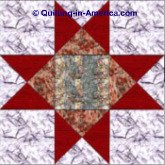 A multi-color variation was known as
Variable Star
in the East, and in the West during the mid-1800s when the annexation of Texas was a political issue it became known as
Lone Star
, and
Texas Star
.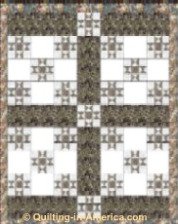 Also popular with Amish quilters, the Ohio Star was frequently used as a main block within a quilt, as well as border design of smaller blocks around a large center star or quilted design in a Medallion quilt.

This block was also known by the political slogan Tippecanoe and Tyler Too, after the 1840 presidential campaign slogan of William Henry Harrison and John Tyler. Harrison had become known for his 1811 victory against the Indians in the battle of Tippecanoe, so during the campaigning of 1839 and 1840, which was the first in American history with slogans and songs, "Tippecanoe and Tyler too" was the popular slogan associated with Harrison and Tyler.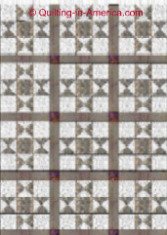 Putting the blocks together with
sashing strips and cornerstone blocks
makes a striking, yet simple design.
---