Vintage Dresden Fans
by Lubbock Project Linus
(Lubbock, Texas)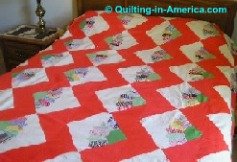 Vintage Dresden Fan Quilt on Queen-size bed
This fan-tastic vintage quilt top was designed using quarter Dresden plates that are hand appliqued with a type of blanket stitch to form a fan using a muslin background.


The blocks are hand-pieced on point. The borders are applied by machine. The plain blocks appear to be red, but they are actually a bright orange.


The vintage fabrics in the fans are absolutely wonderful! Overall, the top is in excellent condition with no stains or rips. Dimensions are approximately 82" x 94" and fits nicely on a queen size bed.


This lovely quilt top was one of several vintage tops that were donated to the Lubbock Chapter Project Linus. One of the quilt tops had 1931 embroidered as its date, and it is likely that all of them were from that era. It is also likely that the tops were made locally -- West Texas.

There are many online sites with information about the heritage of quilting in America. Some are excellent, containing well-researched scholarly information, such as The International Quilt Study and Museum at the University of Nebraska - Lincoln.
Others, such as Block Central's Quilt Directory contain links to many fine sites that pertain not only to the history of quilts, but to other elements of quilting as well.