Amish Quilts
---
This post may contain affiliate links. Read the full disclosure policy here.
-->
In the world of quilts, antique Amish quilts are unique. Like many quilts, they are a product of their time, place, and people. The Amish, like the Mennonites and Hutterites, are "Plain people," who, while living in communities all over North America, have always lived their lives unlike other modern Americans and Canadians. Rejecting much of contemporary culture as unnecessary, the Plain people have maintained a way of life focused on faith, hard work, and community for over 300 years.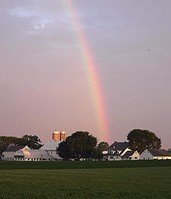 ©Courtesy of jster91

Many of the differences that set the Amish and other Plain people apart from their neighbors also set their quilts apart from quilts made by others. Amish designs tend to be straightforward, simple and uncluttered, combining practicality, functionality, and fine craftsmanship. 
-->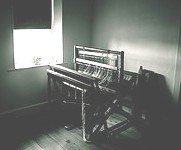 ©Courtesy of hasanahmad1980

Quilting seems to have started in Amish communities around the mid-1800s. Early Amish quilters used natural fibers -- flax and hemp grown on their farms, spun into yarn, then wove into linen and cloth -- dyed with natural pigments. This produced colors with a warm vibrance impossible to attain in modern commercial fabrics.


-->
The sewing machine, patented in 1846, was a new technology readily accepted by Amish quilters. Many early Amish quilt tops were sewn together on treadle sewing machines, and then the layers quilted with careful, intricate hand-stitching.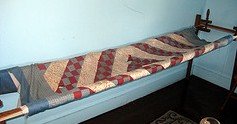 ©Courtesy of shareski

-->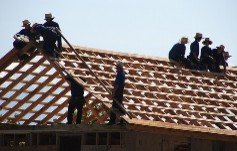 ©Courtesy of Noonie69

Like the traditional barn-raising, where members of the community work together to build a barn, quilting bees offer opportunities for the women to help each other. Socializing as they work, Amish quilters gather around a quilt frame and finish several tops in a single afternoon.


Unexpected Color & Excitement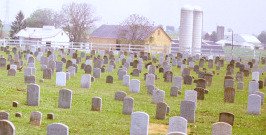 The culture of the Amish, both then and now, was distinct from the "worldly" culture of their non-Amish neighbors. Their "plain and simple" life-style has always been based on Christian values, focusing on the principles of simplicity, humility, practicality, and non-resistance. These values are also present in the motifs, colors and designs in their quilts, which were created primarily as warm, aesthetically pleasing bedcovers.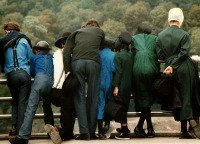 For Amish quilters, inspiration comes from their life and surroundings.While the Amish have limited choices in the colors allowed for their clothing, they have more freedom when using colors in textiles for other purposes. They generally do not put realistic images in pieced quilt tops, rather images are generally suggested rather than being constructed precisely. 
-->
Amish women combine bold, vibrant colors and geometric shapes to create quilts that are characteristically Amish. A popular pattern for more than a century, Sunshine and Shadow, is an elegant example of a simple single geometric pattern combined with stunning alternating colors. Like so many things in Amish culture, it maintains a balance between pride and humility, between simplicity and more complex "worldly" choices.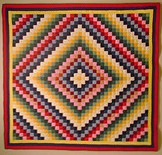 ©Courtesy of notahandbag

-->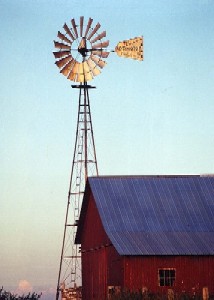 ©Courtesy of Marylinwood

Elements from their surroundings -- barns, pastures, neatly planted rows of corn or other vegetables, stars in the night sky, sunshine, and shadows -- may all contribute to the patterns used in their quilts. Buggy wheels look remarkably like Fan patterns and the Pinwheel pattern is reminiscent of the windmills used to pump water.


-->

Fences may provide inspiration for the patterns known as Bars and Rail Fence.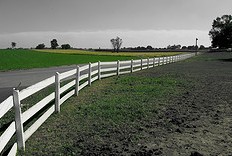 ©Courtesy of shannonkringen


-->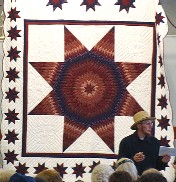 ©Courtesy of atglinenlady


The Amish's deep commitment to God is central to their life. As a result, the Bible and its teachings may have also provided inspiration to quilters. The magnificent Star of Bethlehem, popular since the early 1800s, challenges both the technical skills as well as the creativity of quilters. The radiant colors seem to pulse from the center of the star. In addition to the careful piecing of the diamonds, the plain areas are filled with elaborate quilting designs.


Crown of Thorns seems to have a distinctly religious connection, suggesting the suffering of Christ prior to his crucifixion. While not originally an Amish pattern, the religious roots of the Jacob's Ladder pattern may have appealed to Amish quilters. The pattern depicts the Old Testament story of Jacob's vision of the ladder used by angels ascending and descending from heaven to minister to him.
-->
Among the "English," there is great demand for the strong designs, striking colors, and exquisite quilting of Amish quilts. As a result, a thriving cottage industry has grown whereby many quilters supplement the family income by selling their quilts either in local shops or from their homes.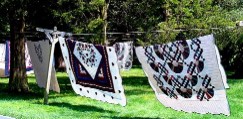 ©Courtesy of atglinenlady

-->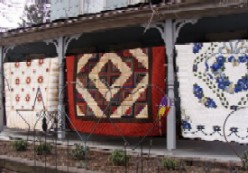 ©Courtesy of atglinenlady

Visitors to Amish and Mennonite communities all over the United States may see Amish quilts for sale displayed across porches, like this building in Lancaster County, Pennsylvania, in local shops, or on clotheslines.