Alex Anderson
---
This post may contain affiliate links. Read the full disclosure policy here.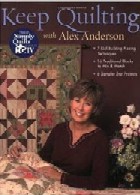 Sharing her love of quilting with anyone who will listen, Alex Anderson has established herself as a popular quilter and instructor. In her books and television shows, she presents her lessons clearly and simply, with irresistible enthusiasm, making the elements of quilting accessible to millions of quilters. 
In addition to teaching the details of making quilts -- the patterns, the piecing, and the quilting -- Alex also shows an intense appreciation of traditional quilts.

Quilting, Clear & Simple
Alex's contributions to quilters and the quilting industry include:
* Written several dozen books about quilting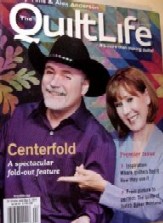 Ricky Tims and Alex Anderson.
* Hosted "Simply Quilts" on HGTV for 11 years
* Founding partner of The Quilt Show.com, the world's first full-service interactive online video/web quilting magazine
* Co-host of " The Quilt Show with Alex Anderson and Ricky Tims "
* National spokesperson for Bernina of America
* Promotional partner for AccuQuilt's GO!
* Designer of her own line of fabrics with P&B Textiles
* 2008 International Quilt Festival Silver Star Award winner for her positive impact on the quilting industry and community
* Chosen "The Most Influential Person in The Quilting Industry" (tied with Ricky Tims and Karey Bresenhan of Quilts, Inc) by the readers of Quilter's Newsletter magazine (Feb 2009)