Pineapple
---
This post may contain affiliate links. Read the full disclosure policy here.
The challenging Pineapple variation of the Log Cabin block is created by piecing strips of fabric on the diagonal, rather than perpendicular to the center square as it is in the more common traditional Light-and-Dark and Courthouse Steps variations. As with many quilt blocks, this block has alternative regional names, such as, Maltese Cross and Windmill Blades.

Exceptionally Dynamic
During colonial times, a widely recognized symbol of hospitality was the pineapple. It is a recurrent motif in the decorative and textile arts of the time.
The Pineapple variation of the Log Cabin block is one of the most imaginative interpretations of this popular fruit. The angularity of the design echoes the spiky leaves and chunky design of the pineapple itself.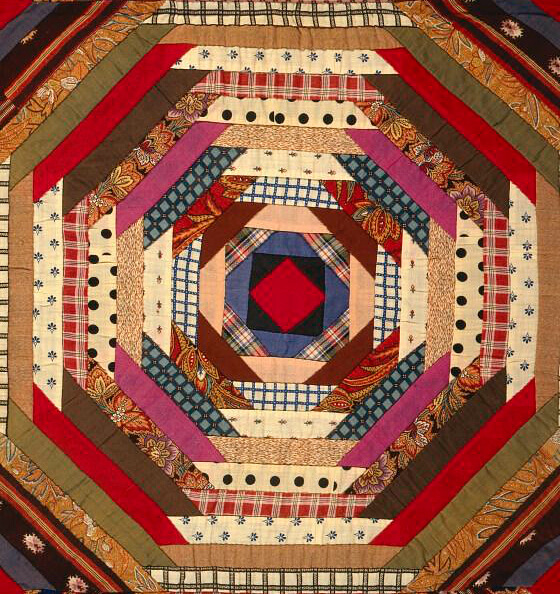 colorful pineapple quilt block
As with other Log Cabin block designs, the size and impact of the Pineapple block depend on the width, colors, and number of fabric strips used to construct it. The piecing for this variation is more complex than other Log Cabin designs resulting in a finished block that is exceptionally dynamic.

Instead of using 2 dark and 2 light strips for each round of logs (as in the Light-and-Dark and Courthouse Steps variations), 4 strips of each of light and dark fabrics are used for one complete round of the block. Alternating rows of lights and darks create the characteristically stunning visual effect.
Starting with a small center square, add 4 right-angle triangles of similar color value, creating a Square in a Square block. Cut a selection of light and dark print fabrics, then starting with strips of opposite value of the square, cut the strips slightly shorter than the sides of the square, then sew them in place.
With a transparent ruler, use the side of the inner square as a guide and draw lines across the ends of the newly-sewn strips lined up with the edge of the previous row's strip. Sew the next round of strips, lining the edge of the strip with the line.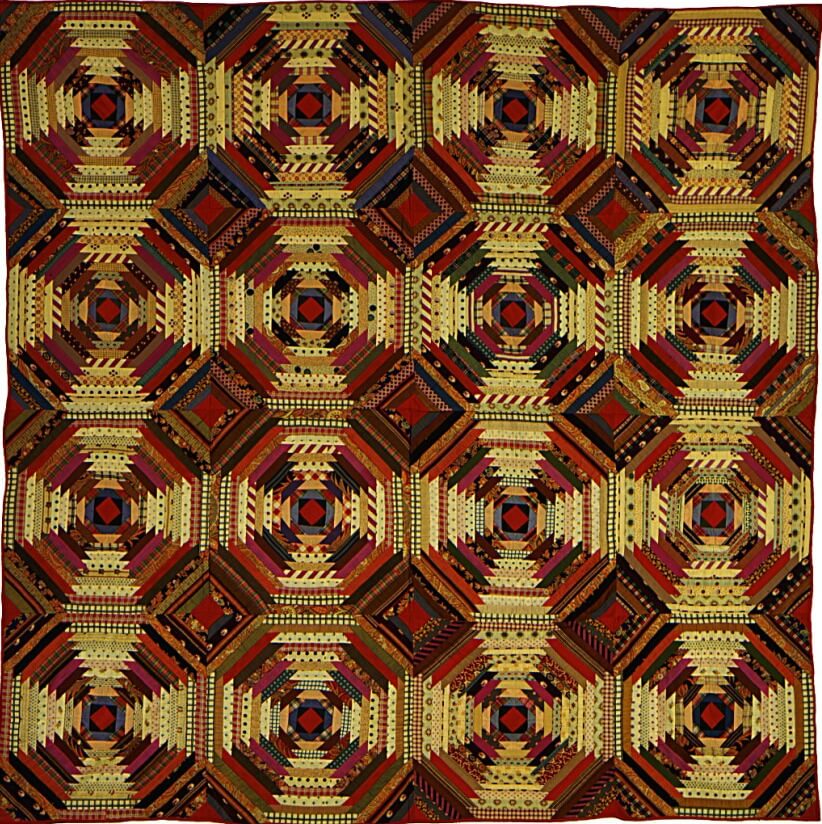 Stunning pineapple quilt
Continue to add rounds of light and dark strips until the block reaches the desired size. Complete the corners by adding strips of the same color value. Trim the strip edges to match the edges of the square.