Eleanor Burns
---
This post may contain affiliate links. Read the full disclosure policy here.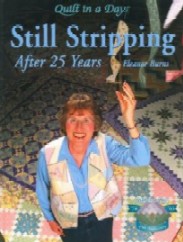 With her passion for teaching and an enterprising spirit,Eleanor Burns was instrumental in the resurgence of interest in the art of quilting in America. Her Quilt in a Day  techniques simplified and streamlined many of the steps involved in piecing traditional quilt tops so that rather than taking weeks or months to complete, a top could be finished in days.

Early Innovator
Being dyslexic, Eleanor developed an extraordinary ability to make difficult things simple, which she used to develop her innovative, easy to learn stitching techniques. Replacing scissors and templates with rotary cutters and rulers, and applying the method of assembly-line sewing to piecework, Eleanor invited all types of sewers to participate in an age-old tradition, generating a quilt-making revolution.

Her other accomplishments include: 

* fabric designer for Benartex
* official spokeswoman for Babylock sewing machines
* published over 104 'How-to' quilt books
* developed an Eleanor Burns Signature Pattern Collection
* designed a variety of specialty quilters' rulers
* In 2005 one of 5 quilters voted All American Quilter
* 1999 Michael Kile Award of Achievement Prestigious "Lifetime Achievement Award" for her support of the quilting industry and her work to achieve a long-lasting effect for the advancement of quilting.