Storm at Sea
---
This post may contain affiliate links. Read the full disclosure policy here.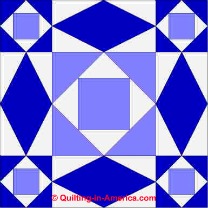 Simple Storm at Sea block
The Storm at Sea vividly depicts the rolling waves of a stormy sea with its simple color palette and wave-like imagery. An interesting old scriptual-based pattern, it has several different designs by the same name as well as several variations in its design.
It is likely that the New Testament passage that inspired this pattern brought comfort to many quilters during times of difficulty or turmoil.
Rolling Waves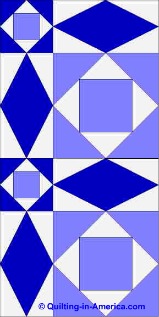 Storm at Sea block section
Surprisingly, the illusion of waves is created by a few geometric shapes with very simple dimensions. The large center square is twice as big as the small center square. The rectangle is the height of the small square block and the length of the large square block.
An all-over pattern, Storm at Sea is not constructed in the typical way that quilt blocks are. Its alternating wide and narrow rows and columns of squares and rectangles are especially attractive when set edge to edge creating what appear to be circular swirls.
The quilter has the freedom to choose any number of ways of putting the blocks together, whether in rows of squares and rectangles that are then joined, or perhaps in block sections followed by a final thin row at the side and bottom.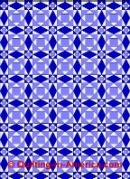 Storm at Sea quilt top
With a few simple geometric shapes -- triangles, squares, rectangle, and diamonds -- this quilt has the illusion of curves moving across its surface.
Changing the color palette could emphasize different elements within the design, creating stunning stars or wavy lines -- creating a new look for an old design.