Clays Choice
---
This post may contain affiliate links. Read the full disclosure policy here.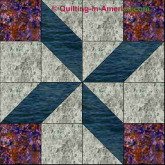 Clay's Choice quilt block
A lovely quilt block known by many names, Clays Choice originally honored Henry Clay (1777-1852), a long-time politician who dominated American politics at the state and national level for over 30 years in the early years of the United States.
4-Patch Politics
Clay's political accomplishments and rivalries (particularly with John C. Calhoun), as well as his multiple attempts to win the presidency, made him a well-known public figure during the turbulent times prior to the Civil War. Urged by many to moderate his strong stance against slavery, he proclaimed, "I'd rather be right than be president." Clay's morality is honored in this quilt block that bears his name.
With its variety of names it has been known by, this four patch block preserves many of the issues and events of history. Other names for this block referring to Henry Clay are Clay's Favorite, Clay's Star, Henry of the West, and Harry's Star. As many pioneer families migrated westward, the next generation eventually forgot about Clay, Calhoun, and the bitter political rivalries and this lovely block became known as the Star of the West.
Fast, Easy, Clay's Choice Quilt
Download the free 12-inch finished Accuquilt pattern.