Jobs Troubles
---
This post may contain affiliate links. Read the full disclosure policy here.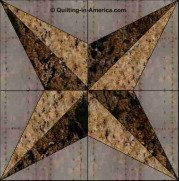 Inspiration for many traditional quilt blocks, such as Jobs Troubles, came from passages from the Bible. With the hardship and loneliness of life for many Americans during the 1800s, particularly those who had left their homes to travel West to a new life, it is no surprise that faith and religion were very important to them.
Pioneer families moving westward encountered many hardships and sadness, both during the journey west, and in their new homes far away from the lives and families they left behind.
Inspiration During Hard Times
The Old Testament story of Job, a faithful farmer who, in spite of unbearable hardship and sadness, never lost his faith in God, has always been an inspiration to many Christians as they struggle in their daily lives.
Jobs Troubles is 4-patch block. Each of the squares is made of triangles that have also been constructed of triangles. While not absolutely necessary, it is frequently made using paper piecing techniques, to avoid stretching of the bias edges of the fabric.