Shoo-Fly
---
This post may contain affiliate links. Read the full disclosure policy here.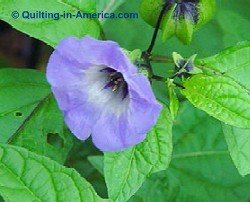 Shoo-Fly flower
Named after a wild plant with domed flowers called clover broom or shoo-fly, this 9-patch block originated around 1850 and became popular in the late 1800s. Reflecting farm life, an alternate name for the pattern is Hole in the Barn Door. Its arrangement of triangles and rectangles around a center square resembles a hole through which flies could enter the home. 
Old Time Simplicity
Clover bloom, from the nightshade family, has large lobed leaves, and large blue flowers with rounded petals. The juices from the foliage and roots were mixed with milk in a dish, which was then set out to attract flies. When the flies fed from this concoction, they died, thus the origin of the common name, Shoofly Plant.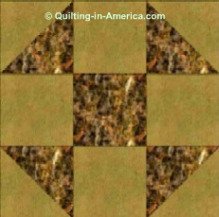 Simple Shoo-Fly quilt block
Made of half-square triangles at the four corners of the block instead of squares, the Shoo-Fly block is a simple quilt block that was often used to teach young girls the basics of quilt design and construction.
Because of its simplicity and opportunities for creativity and color play, the Shoo-Fly block is a popular block with Amish quilters.
Another variation of the origin of the name "shoo-fly" is the sweet, rich Amish dessert known as shoo-fly, a gooey molasses bottom topped with spicy cake in a flaky pie crust, that is said to have attracted flies while it baked.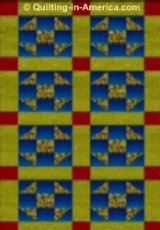 shoo-fly quilt top
A quilter may decide to use up small scraps of fabric in the blocks, making a "scrappy" quilt or create a stunning overall 2-color scheme.
To show off the geometry of the design, the blocks were typically joined together with sashing (lattice) strips with a cornerstone square of a different color at the point where the strips meet.