Charity Quilting
---
This post may contain affiliate links. Read the full disclosure policy here.
With charity quilting, quilters provide the comforting warmth and softness of a quilt, and the special significance of a gift made with love.
Sharing Handmade Hugs
Quilters are incredibly giving and sharing -- of their time, talents, and gifts. It is therefore no surprise that there are many non-profit organizations that have been established for the sole purpose of providing handmade quilts for individuals and families in need of comfort.
These organizations provide quilts to children in need, families of fallen Soldiers, wounded Soldiers, adults suffering from illness, and more.
Quilting for Kids in Need
No one needs the comfort and security of a cuddly quilt more than a child suffering from illness or trauma. Quilters step up to meet the challenge with charity quilting -- making and donating quilts in their communities, such as to women's shelters or foster care, or through a variety of non-profit organizations specifically for helping children in need.
Big Mamas Legacy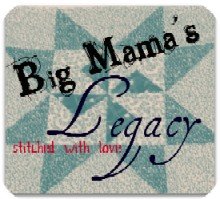 Big Mamas Legacy, a 501(c)(3) charitable organization based in Lubbock, Texas, is devoted to providing hand-made "hugs" in the form of quilts to children and adults in need. This organization honors the memory of my Great-Grandmother, Big Mama, but even more than that it carries on the tradition of giving hand-made stitched items to children in need.
In addition to donating quilts and blankets to organizations such as Project Linus and Quilts for Kids, Big Mamas Legacy also donates quilts to organizations that provide quilts to families of Soldiers killed in action or to wounded Soldiers.
Through the generosity of the CH Foundation, Big Mamas Legacy purchased a BabyLock Tiara longarm quilting machine. This marvelous machine makes the task of quilting the layers of a quilt quite easy. To use this machine free of charge, local charity quilters need only make arrangements for a date and time by contacting Big Mamas Legacy. 
Quilts for Kids
Quilts for Kids is an international organization that transforms discontinued and unwanted fabrics into quilts. Quilts for Kids has distributed tens of thousands of quilts worldwide to children suffering from serious illnesses or abuse. 
Quilts for Soldiers and their Families
Another dimension of charity quilting is the quilt made to memorialize and honor those who have been wounded or killed while serving in the armed forces. Quilters stitch love, gratitude, prayers, and a bit of themselves into each quilt they make for our wounded and lost warriors' families.

Quilts of Valor Foundation
The goal of the Quilts of Valor Foundation is to provide a handmade quilt to every Soldier wounded in the service of their country, to show them gratitude and to welcome them home.
---
Looking for More?
Many more charity quilting organizations exist. Quilters are incredibly giving and sharing -- of their time, talents, and gifts. There's an organization that is perfect for you, whether you are a quilter or just want to help support these organizations in other ways.