Grandmothers Fan
---
This post may contain affiliate links. Read the full disclosure policy here.
Quilters pieced the lovely Grandmothers Fan block from lavish silks, satins, and velvets during Victorian times, embellishing them with lace, ribbons, embroidery, and beads. This block offers many opportunities for creative expression with the endless variety of possible layouts of the blocks.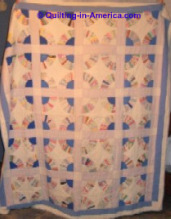 During the years of the Great Depression, quilters used up their scraps to make this favorite design. It was during those lean times that my great-grandmother, Big Mama, made this twin-size beauty for her little girl, my grandmother, Little Grandma.
Always a Favorite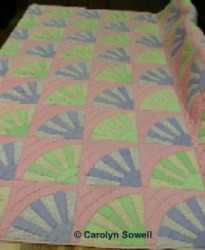 Completely different designs can be made from aligning the blocks in different configurations, such as the old quilt passed down to Carolyn Sowell from her maternal grandmother. The story of Carolyn Sowell's Grandmothers Fan quilt is one of many touching accounts of precious quilts passed down from one generation to the next.