Dutchmans Puzzle
---
This post may contain affiliate links. Read the full disclosure policy here.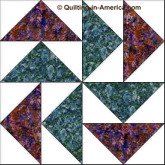 The Dutchman's Puzzle pattern is a simple 4-patch blockconstructed of pairs of Flying Geese blocks. An old design, it originated in the very late 1800s.

Spinning Windmill
It, or some variation of it, is frequently referred to as a Windmill block because the spiral of triangles is reminiscent of the famous Dutch windmills.