Vintage Star Flower Quilt Blocks
by Lubbock Project Linus
(Lubbock, TX)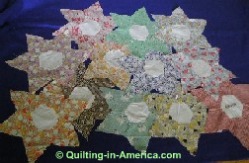 Vintage Star Flower quilt blocks
This lovely set of 12 vintage star flower quilt blocks was donated to the Lubbock Chapter Project Linus by a "blanketeer" as a fundraiser.


Measuring approximately 11" across at the largest point, these hand-pieced blocks may have been the start of a signature, autograph, or friendship quilt, since one of the flowers has a name embroidered in its center.


The flowers, each with 6 points and a hexagon muslin center are made from very unique vintage prints. Some may even be from feed sacks.