Applique Quilts
---
This post may contain affiliate links. Read the full disclosure policy here.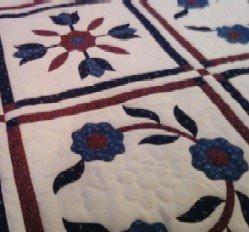 Folk art applique
Applique quilts first gained favor in the South where wealth, slaves, and warmer climate lessened the need for massive amounts of bedcovers.
They became the "elegant" quilts, upon which extra care and time, the best materials, and the most intricate quilting were lavished, reaching the peak in their popularity in the mid-1800s. Toward the end of the 1800s these quilts became popular with ladies of fashion in the North.
Often made of whole cloth, with the design applied to a single large piece of fabric, or combined in some way with patchwork design, applique quilts required more fabric than patchwork quilts, so were usually associated with more affluent times. Since these quilts were likely to be a more artistic expression of the quilter's craft, they came to be the prime choice for masterpiece quilts in the Middle and Far West.

Decorating with Fabric
The French word applique means applied, and it is used to denote both the technique and the decorative pieces used in it. Applique motifs are cut from one or more fabrics and are laid on top of a larger background fabric.
There are 2 methods of attaching the applique: 1) carefully turning the edges under to prevent fraying, then sewing, usually by hand, using tiny invisible stitches; and 2) sewing around the raw edges with a blanket stitch or satin stitch.

How to Applique with Fusible Adhesive
Applique designs were drawn largely from nature -- flowers, trees, and figures. Such motifs were either quite realistic and elaborate, or most frequently with some measure of abstraction and simplification.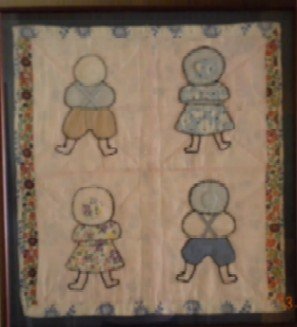 Applique was also used as a means of "picture making" in story quilts, a long-held American folk art tradition.
During the Depression Era, popular patterns included figures of children. This scrappy vintage quilt is a variation of Sunbonnet Sue. It was made for my mother by her grandmother, Big Mama, in the late 1930s.
Other popular applique patterns include:

Oak Leaf Wreath 

Ohio Rose (also known as Rose of Sharon and California Rose) 
Sunbonnet Sue, which was especially popular from 1930-1960, sometimes paired with a little boy wearing overalls.
Reverse Applique
An applique technique used by Central American women, reverse applique, or mola, are designs created by cutting through multiple layers of cloth. Each mola is started with 5 thicknesses of different fabrics. The overall design is cut out of the top layer, and the edges sewn under. Details are then cut out of the other layers.